Two new VOLspeed tuning modules for Giant e-bikes will be released shortly. A completely new module for the Syncdrive Pro2 motor and a revised version for the Syncdrive Sport, Pro, Life and Core drives.
Syncdrive Pro2
The new Syncdrive Pro2 – motor, which is used for the first time in the 2022 Trance and Reign models and is based on the new Yamaha PW-X3 uses different connectors than the previous Syncdrive motors. Therefore, there is a new tuning module specifically for this motor.
The installation of the tuning is relatively simple. The electrical connections are no longer located at the top of the motor, as is typical for Yamaha, but on the side. In addition, no more cables are led out of the motor, the sockets are now located directly in the motor housing. Thus, the wiring of the bike is now also much 'cleaner'. It is also good that there is enough space under the side cover to place the tuning module. This additionally simplifies the installation.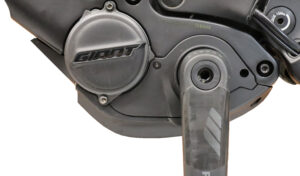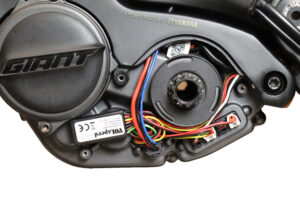 All bikes with the Syncdrive Pro2 are currently equipped with the new Ergo 3 control unit and an additional Go+ control unit in the top tube. An EVO-SG display can also be retrofitted. Of course, the new control units and the EVO-SG are supported by the VOLspeed V4.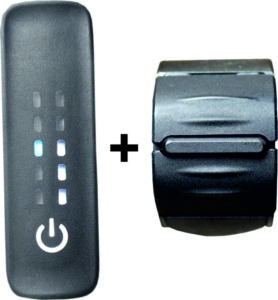 The following video shows the installation in a Reign E+0 2022 and the operation of the module with a Ridedash Plus and the EVO-SG display. Of course, the Ridecontrol app can also be used for this. By the way, no display is required to switch the module on and off. A display is only required for changing settings.
Overview Giant tuning modules
Since the VOLspeed for the Pro2 also includes a few new features that were not previously available on our V3, we are also bringing a new module for the Syncdrive Sport, Pro, Life and Core drives.
Both modules now appear uniformly as "V4", since they have the same range of functions.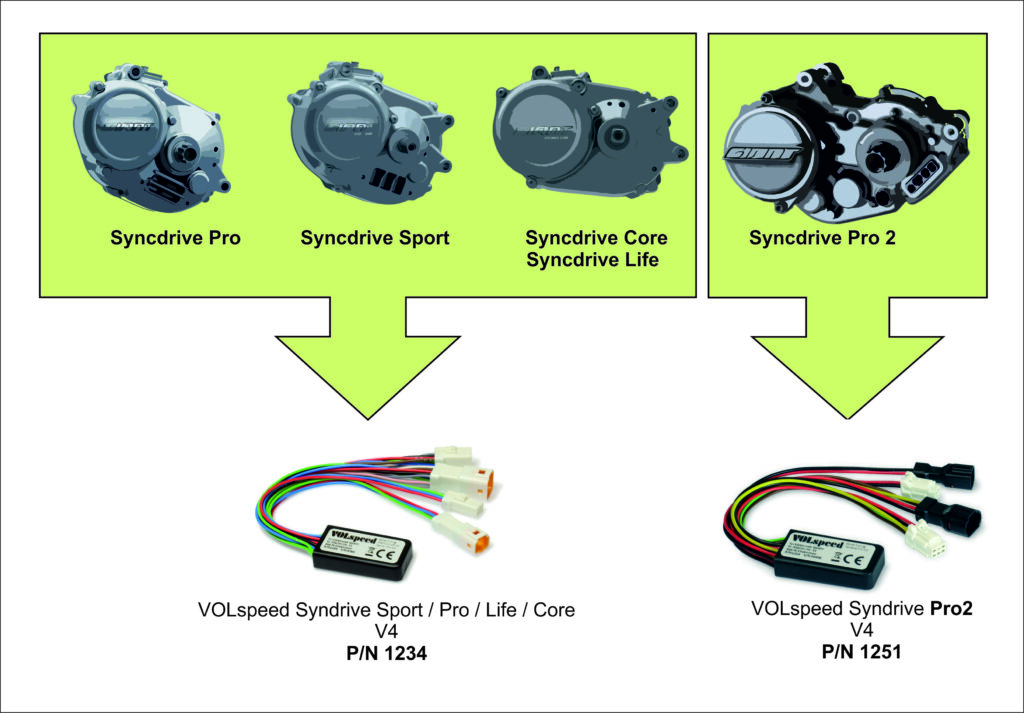 Function overview
New: Automatic initialization, immediately ready for operation after installation – plug and ride.
Tuning can be turned on or off via the arrow keys on the control unit.
After switching on, the speed limit can be freely set in the range 25 – 45km/h (28mph) using the arrow keys. The last set value is stored.
The tuning is always turned off after switching on the bike.
Setting of a smoother "throttling behaviour" possible (dynamic mode). The otherwise very abrupt cut-off at the speed limit is thereby significantly softened.
New: Individual activation code adjustable
Correct display of speed, distance traveled, and average speed at all times.
Correct total mileage of the bike even after removal of the tuning, because the kilometers in the motor control are corrected by the tuning module.
Wheel circumference adjustable (+/-10%) to improve the accuracy of the speed display and distance measurement.
Availability
Both modules are expected to be available from us in the store and from many dealers from 31 Mar 2022:
VOLspeed for Giant Syncdrive Pro2 V4 (P/N 1251):
http://www.volspeed.de/VOLspeed-E-Bike-Tuning-Giant-Syncdrive-Pro2-V4
VOLspeed for Giant Syncdrive Sport / Pro / Life / Core V4 (P/N 1234):
http://www.volspeed.de/VOLspeed-E-Bike-Tuning-Giant-Syncdrive-Pro-/-Sport-/-Life-/-Core-V4